Every effort one puts into protecting his/her privacy can become useless, unless there is some constant in these actions. Browser history cleanup, cookies deletion and similar can help to some extent, but it won't prevent hacker attacks. Sometimes, the attack will happen while one is still using the browser. When the cleanup time comes, it will be too late.
PC Privacy Shield comes with an automated mode, and it will alarm you when there is a potential hazard for your privacy. PC Privacy Shield was developed to be an application in charge of keeping privacy intact. That means regular cleanup of compromising data, harmful information wiped, and a real-time alert system.
Real-time alerts are available within seconds. After the system is on, the user will get information anytime something fishy comes up. The program deep scans locally every bit of information and reports about potential threats on one's PC. The same moment something is noticed the user can react and take action. Instant alert-response notifies the user about any potential threat to private information.

In addition to this, a scheduled cleanup can be set in seconds, so users don't have to worry about that as well. PC Privacy Shield can be in a complete autopilot mode and still protect you better than you could.
How to Automate PC Privacy Shield
On the home screen, go to "Settings" and set your active alert system the way you want it. Turn on the automatic search/cleanup, popups and cookie warnings. By this, you'll be notified and protected 24/7!
Step 1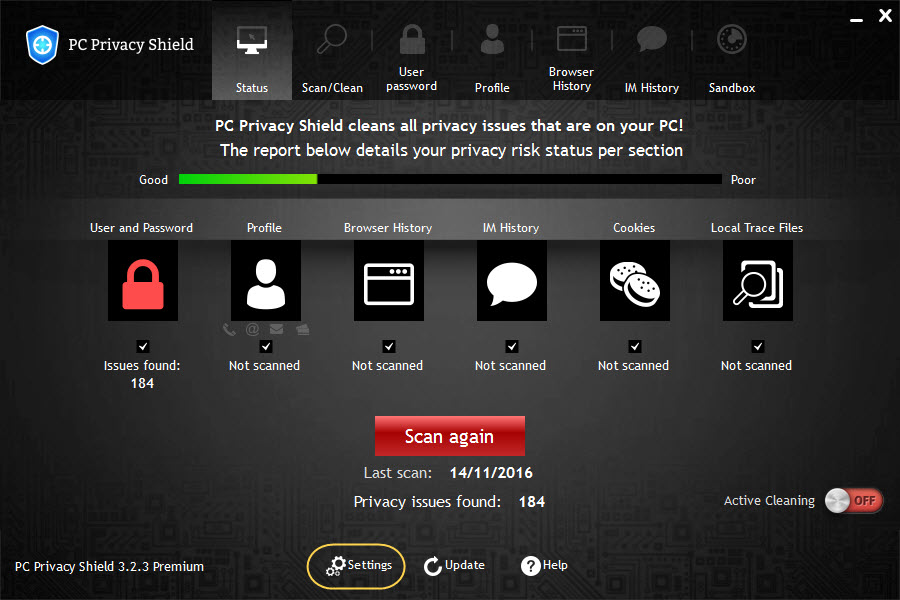 Step 2